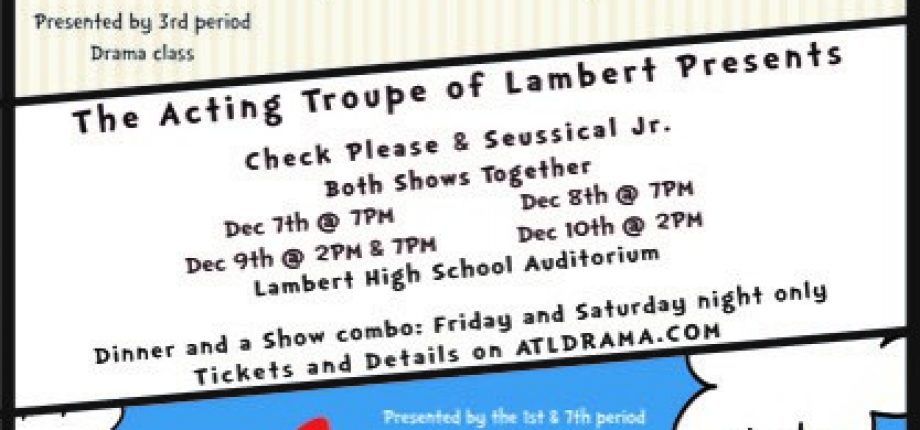 The Acting Troupe of Lambert will perform Check Please & Seussical Jr  December 7th at 7pm , December 15th at 7pm, December 16th at 2pm and 7pm and December 17th at 4pm  We look forward to seeing you!
Tickets go on Sale November 23rd!  https://www.showtix4u.com 
SUMMARY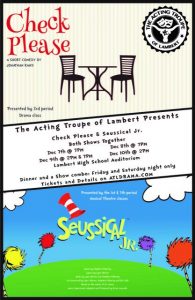 THE STORY
SEE TWO GREAT SHOWS ON THE SAME NIGHT!
Check Please
Dating can be hard. Especially when your date happens to be a raging kleptomaniac, or your grandmother's bridge partner, or a mime. Check Please follows a series of blind dinner dates that couldn't get any worse — until they do. Could there possibly be a light at the end of the tunnel?
Seussical
Horton faces a double challenge–not only must he protect the Whos from a world of naysayers and dangers, but he must guard an abandoned egg, left to his care by the irresponsible Mayzie La Bird. Although Horton faces ridicule, danger, kidnapping, and a trial, the intrepid Gertrude McFuzz never loses faith in him.
Dinner Option:  The dinner and a show option must be purchased with your tickets for the band to get an accurate count of purchased dinners ahead of time
The Lambert High School Band will be offering an Italian dinner on Friday and Saturday at 5:30pm for $10 per person.
It will include pasta with marinara or bolognese sauce, bread, salad, dessert and a beverage. (Gluten free pasta will be available upon request)
Live dinner music will be provided by LHS Band and Orchestra small ensembles to enhance your dining experience.
Just select the Dinner and a Show ticket option in the drop down when purchasing your tickets for Friday or Saturdays 7 pm shows.
Thursday, December 7th 7pm
Friday, December 15th 7pm
Saturday, December 16th 2pm & 7pm
Sunday, December 17th 4pm
To select your seats you must order online.  Any tickets sold at the door will be General Admission
Buy your tickets online to Guarantee you get a Seat!
Director/Choreographer: Carly Berg
Tickets on sale online November 23rd – www.showtix4u.com
$15 Adults/$10 Students – Pick your seats online only; General Admission tickets sold at the door
TICKETS
Patrons – Look for an email with your ticket code for pre-sale starting November 16th   Use the code to purchase early tickets at http://www.showtix4u.com
Public – Tickets go on sale November 23rd at http://www.showtix4u.com
Want to become a patron? Email atlboosterclub@gmail.com for details
TICKETS:
Students – $10
Adults – $15
To select your seats you must order online.  Any tickets sold at the door will be General Admission only.
Our last show was a SELL OUT buy your tickets online to guarantee you get a seat.
VOLUNTEERING
Want to help? Some of our areas of need include:
– Set Design and Construction
– Costume Creation and Props
– Publicity and Show Marketing
– Playbills and Programs
– Ticket Sales and Concessions
– Sound, Lighting, and Video
Contact a student or parent officer for details on how you can volunteer with the ATL on this show.
SPONSOR OPPORTUNITIES
A number of valuable sponsorship opportunities will become available for this show. Regardless of your company's budget, we offer easy and effective ways to promote your business to active, local families who love to support our sponsors. See our Sponsors page for more details or contact us.